I promised you more book reviews, and here they are! I tried to pick of bit of a variety, luckily I have many to choose from. I'll do my best to review every book I've read over this year if I can. All at once I'm usually reading 1-2 personal development books (something all Beachbody coaches do!), a fiction book, and usually a health related book, such as The Woman Code, which I'm reading now and heard about from a Jess Lively podcast! I also tried to mix up my fiction (I tend to love an author and keep reading their books) and I'm reading a classic that I never had a chance to read: Oliver Twist by Charles Dickens!
The Heiress of Winterwood by Sarah E. Ladd
Darbury, England, 1814
Amelia Barrett, heiress to an ancestral estate nestled in the English moors, defies family expectations and promises to raise her dying friend's infant baby. She'll risk everything to keep her word—even to the point of proposing to the child's father, Graham, a sea captain she's never met.
Tragedy strikes when the child vanishes with little more than a sketchy ransom note hinting to her whereabouts. Fear for the child's safety drives Amelia and Graham to test the boundaries of their love for this infant.
Amelia's detailed plans would normally see her through any trial, but now, desperate and shaken, she examines her soul and must face her one weakness: pride.
Graham's strength and self-control have served him well and earned him much respect, but chasing perfection has kept him a prisoner of his own discipline.
Both must learn to accept God's sovereignty and relinquish control so they can grasp the future He has for planned for them.
This book was a fun read! I kinda saw where it was going from near the beginning, but nevertheless I enjoyed reading the story. It's definitely a little corny in parts and some of the characters and situations are a bit unrealistic in the sense that they seemed to fit their character's stereotype a little too much (not complex enough). But it was fun and relaxing to read. Basically a historic/Christian version of chick-lit. I'm a fan
The Perfect Son by Barbara Claypole White
From a distance, Felix Fitzwilliam, the son of an old English family, is a good husband and father. But, obsessed with order and routine, he's a prisoner to perfection. Disengaged from the emotional life of his North Carolina family, Felix has let his wife, Ella, deal with their special-needs son by herself.
A talented jewelry designer turned full-time mother, Ella is the family rock…until her heart attack shatters their carefully structured existence. Now Harry, a gifted teen grappling with the chaos of Tourette's, confronts a world outside his parents' control, one that tests his desire for independence.
As Harry searches for his future, and Ella adapts to the limits of her failing health, Felix struggles with his past and present roles. To prevent the family from being ripped apart, they must each bend with the inevitability of change and reinforce the ties that bind.
This book took me forever to get through, but it was really interesting! I do feel as though parts were a bit too drawn out, but nevertheless I really wanted to know what was going to happen next! The author certainly did well with keeping up the suspense of how the story would continue, and created some pretty complex characters as well. After reading the book, I looked through an interview in the back and saw how much research the author did in mental disorders like Tourette's and what that experience was really like for both the person with the syndrome and his or her family. I also loved that the book switched between characters' points of view. Overall, it's a little longer than I'd have liked, but a really good book.
Crooked Little Lies by Barbara Taylor Sissel
On a cool October morning, Lauren Wilder is shaken when she comes close to striking Bo Laughlin with her car as he's walking along the road's edge. A young man well known in their small town of Hardys Walk, Texas, Bo seems fine, even if Lauren's intuition says otherwise. Since the accident two years ago that left her brain in a fragile state, she can't trust her own instincts—and neither can her family. Then Bo vanishes, and as the search for him ensues, the police question whether she's responsible. Lauren is terrified, not of what she remembers but of what she doesn't.
Unable to trust herself and unwilling to trust anyone else, Lauren begins her own investigation into the mystery of Bo's disappearance. But the truth can prove to be as shocking as any lie, and as Lauren exposes each one, from her family, from her friends, she isn't the only one who will face heart-stopping repercussions.
Oh my gosh, this book! Totally not what I expected! Talk about keeping you on the edge of your seat – I had NO IDEA how this was going to go! It was fascinating how the author slowly tied together the story, including pieces of the past as well as various points of view. It's almost like the book is a mystery (okay, well it is…) and you're given little bits of information as time goes on and then once you've finished it all makes sense looking back! I got this book for free through Amazon Prime and I'm so glad I ended up reading it. I definitely recommend it! It's almost Gone Girl-esque, if you're a fan of that book.
The Fairest Beauty by Melanie Dickerson
Sophie has long wished to get away from her stepmother's jealous anger, and believes escape is her only chance to be happy. Then a young man named Gabe arrives from Hagenheim Castle, claiming she is betrothed to his older brother, and everything twists upside down. This could be her chance at freedom – but can she trust another person to keep her safe?
Gabe knows he defied his parents Rose and Wilhelm by going to find Sophie, and now he believes they had a right to worry: the orphan girl has stolen his heart. Though romance is impossible – she is his brother's future wife, and Gabe himself is betrothed to someone else – he promises to himself he will keep her safe, no matter what.
When the pair are forced to run to the Cottage of the Seven, they find help – but also find their feelings for each other have grown. Can they find a way to protect Sophie while also safeguarding their hearts?
This is actually the second book I read by this author, after enjoying the first. I didn't like it quite as much because it's very clearly based on Snow White and the Seven Dwarfs (which is intentional), but I felt like that took away some suspense. It was interesting, however, how her version was very different in many ways. I enjoyed the overall story and it was relaxing to read, however I do think certain parts were drawn out just to add in "lessons" (another Christian author) that weren't really necessary to the story. It's another cute fairytale light-read, so worth it if you're in the mood for something like that.
A Spool of Blue Thread by Anne Tyler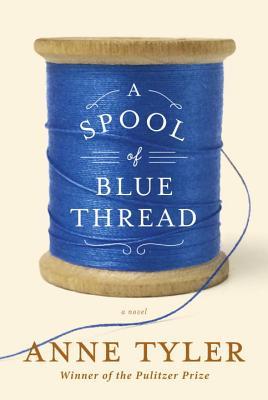 "It was a beautiful, breezy, yellow-and-green afternoon." This is the way Abby Whitshank always begins the story of how she fell in love with Red that day in July 1959. The whole family–their two daughters and two sons, their grandchildren, even their faithful old dog–is on the porch, listening contentedly as Abby tells the tale they have heard so many times before. And yet this gathering is different too: Abby and Red are growing older, and decisions must be made about how best to look after them, and the fate of the house so lovingly built by Red's father. Brimming with the luminous insight, humor, and compassion that are Anne Tyler's hallmarks, this capacious novel takes us across three generations of the Whitshanks, their shared stories and long-held secrets, all the unguarded and richly lived moments that combine to define who and what they are as a family.
Hmmm. I liked many parts of this book but also didn't like a lot of other parts. I think that is partially because the characters were very real – they had their good characteristics but they had their flaws as well. It was honest, which can be good but at the same time I read to escape from the less fun parts of reality, which this book confronts straight on. One thing I did really appreciate was the changing back and forth between "now and then," better explaining each character's history and how they became the way they are. It's a really interesting book and great if you're looking for something with honest, multi-dimensional characters.
What are you reading now?
What's one book on your "to read" list?