More book reviews! I've definitely slowed down with reading novels as I've been working a little more behind the scenes on Beachbody and my blog, but I'm still chugging along!
Still Alice by Lisa Genova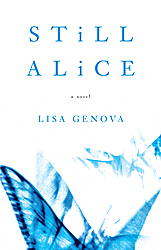 Alice Howland is proud of the life she worked so hard to build. At fifty years old, she's a cognitive psychology professor at Harvard and a world-renowned expert in linguistics with a successful husband and three grown children. When she becomes increasingly disoriented and forgetful, a tragic diagnosis changes her life–and her relationship with her family and the world–forever.
I've talked about this book before during Thursday Thoughts so I'll keep this brief, but this was a GREAT book. A must-read, for sure. I haven't personally known someone with alzheimers so being able to read this book from the point of view of someone with the disease was an incredible way to understand not only what it would feel like to have the disease (or a fraction of!) but also the point of view of the family members and how difficult it really is to handle.
The book was very realistic and well written, and not only was it about alzheimers, but the characters in the story were very well developed. Her husband and each of her children had their own stories and character development and it made the story feel even more real because of their different reactions. I highly recommend this book because it's a way to understand alzheimers, but through a story rather than more scientific reading.
Northanger Abbey by Jane Austen
A wonderfully entertaining coming-of-age story, Northanger Abbey is often referred to as Jane Austen's "Gothic parody." Decrepit castles, locked rooms, mysterious chests, cryptic notes, and tyrannical fathers give the story an uncanny air, but one with a decidedly satirical twist.
The story's unlikely heroine is Catherine Morland, a remarkably innocent seventeen-year-old woman from a country parsonage. While spending a few weeks in Bath with a family friend, Catherine meets and falls in love with Henry Tilney, who invites her to visit his family estate, Northanger Abbey. Once there, Catherine, a great reader of Gothic thrillers, lets the shadowy atmosphere of the old mansion fill her mind with terrible suspicions. What is the mystery surrounding the death of Henry's mother? Is the family concealing a terrible secret within the elegant rooms of the Abbey? Can she trust Henry, or is he part of an evil conspiracy? Catherine finds dreadful portents in the most prosaic events, until Henry persuades her to see the peril in confusing life with art.
I'm a big fan of Jane Austen's and I was looking forward to reading another book of hers. At first it was hard to get into solely because of the language, however after a while I got used to it and found myself speaking in "old english" in my head… haha that's when you know you read too much.
I find when I read anything by Jane Austen or anything Jane-Austen-esque I compare it to Pride & Prejudice, which is one of my favorite novels. Haha and this is a little unfair because not only have I read it a couple times but I've watched the movie a million times as well as the movie with the director's commentary… so I know every little nuance in the novel.
BUT back to this one – I can't say I thought it was as good, but it was a fun book to read. I liked that the main character was a little young, naive and curious, but at the same time surprisingly insightful. I felt the ending was a bit abrupt, but otherwise I liked the pace of the book. Now I'm wondering if it was made into a movie… haha even one of those great BBC ones (which I love…).
Silver Girl by Elin Hilderbrand
Meredith Martin Delinn just lost everything: her friends, her homes, her social standing – because her husband Freddy cheated rich investors out of billions of dollars.
Desperate and facing homelessness, Meredith receives a call from her old best friend, Constance Flute. Connie's had recent worries of her own, and the two depart for a summer on Nantucket in an attempt to heal. But the island can't offer complete escape, and they're plagued by new and old troubles alike. When Connie's brother Toby – Meredith's high school boyfriend – arrives, Meredith must reconcile the differences between the life she is leading and the life she could have had.
Set against the backdrop of a Nantucket summer, Elin Hilderbrand delivers a suspenseful story of the power of friendship, the pull of love, and the beauty of forgiveness.
I was really expecting this book to be more of a fluffy beach read, but boy was I wrong! I was so impressed with how the author would write flashbacks into Meredith's past to not only tell us about the history of the characters, but also as a way for Meredith to realize through hindsight that her relationship with her husband wasn't what she thought it was at the time. I felt like Meredith and her friend Connie's thoughts and emotions were raw and real – nothing was held back and nothing felt fake. All the characters felt well developed, and the story kept me interested and wanting more the whole way through the novel. I definitely recommend this book!
Do you ever read books written before the 1900's? 
Weird question, but is there any disease you wish you knew more about?