1. The Best Day of Someone Else's Life
Synopsis:
Despite being cursed with a boy's name, Kevin "Vi" Connelly is seriously female and a committed romantic. The affliction hit at the tender age of six when she was handed a basket of flower petals and ensnared by the "marry-tale." The thrill, the attention, the big white dress—it's the Best Day of Your Life, and it's seriously addictive. But at twenty-seven, with a closetful of pricey bridesmaid dresses she'll never wear again, a trunkful of embarrassing memories, and an empty bank account from paying for it all, the illusion of matrimony as the Answer to Everything begins to fray. As her friends' choices don't provide answers, and her family confuses her more, Vi faces off against her eminently untrustworthy boyfriend and the veracity of the BDOYL.
Eleven weddings in eighteen months would send any sane woman either over the edge or scurrying for the altar. But as reality separates from illusion, Vi learns that letting go of someone else's story to write your own may be harder than buying the myth, but just might help her make the right choices for herself.
Synopsis:
The women of the Waverley family — whether they like it or not — are heirs to an unusual legacy, one that grows in a fenced plot behind their Queen Anne home on Pendland Street in Bascom, North Carolina. There, an apple tree bearing fruit of magical properties looms over a garden filled with herbs and edible flowers that possess the power to affect in curious ways anyone who eats them.
For nearly a decade, 34-year-old Claire Waverley, at peace with her family inheritance, has lived in the house alone, embracing the spirit of the grandmother who raised her, ruing her mother's unfortunate destiny and seemingly unconcerned about the fate of her rebellious sister, Sydney, who freed herself long ago from their small town's constraints. Using her grandmother's mystical culinary traditions, Claire has built a successful catering business — and a carefully controlled, utterly predictable life — upon the family's peculiar gift for making life-altering delicacies: lilac jelly to engender humility, for instance, or rose geranium wine to call up fond memories. Garden Spells reveals what happens when Sydney returns to Bascom with her young daughter, turning Claire's routine existence upside down. With Sydney's homecoming, the magic that the quiet caterer has measured into recipes to shape the thoughts and moods of others begins to influence Claire's own emotions in terrifying and delightful ways.
As the sisters reconnect and learn to support one another, each finds romance where she least expects it, while Sydney's child, Bay, discovers both the safe home she has longed for and her own surprising gifts. With the help of their elderly cousin Evanelle, endowed with her own uncanny skills, the Waverley women redeem the past, embrace the present, and take a joyful leap into the future.
Synopsis:
California's gold country, 1850. A time when men sold their souls for a bag of gold and women sold their bodies for a place to sleep.
Angel expects nothing from men but betrayal. Sold into prostitution as a child she survives by keeping her hatred alive. And what she hates most are the men who use her, leaving her empty and dead inside.
Then she meets Michael Hosea. A man who seeks his Father's heart in everything, Michael obeys God's call to marry Angel and to love her unconditionally. Slowly, day by day, he defies Angel's every bitter expectation, until despite her resistance, her frozen heart begins to thaw.
But with her unexpected softening come overwhelming feelings of unworthiness and fear. And so Angel runs. Back to the darkness, away from her husband's pursuing love, terrified of the truth she no longer can deny: Her final healing must come from the One who loves her even more than Michael does … the One who will never let her go.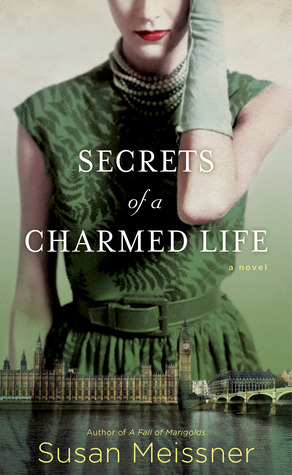 Synopsis:
She stood at a crossroads, half-aware that her choice would send her down a path from which there could be no turning back. But instead of two choices, she saw only one—because it was all she really wanted to see…
Current day, Oxford, England. Young American scholar Kendra Van Zant, eager to pursue her vision of a perfect life, interviews Isabel McFarland just when the elderly woman is ready to give up secrets about the war that she has kept for decades…beginning with who she really is. What Kendra receives from Isabel is both a gift and a burden–one that will test her convictions and her heart.
1940s, England. As Hitler wages an unprecedented war against London's civilian population, one million children are evacuated to foster homes in the rural countryside. But even as fifteen-year-old Emmy Downtree and her much younger sister Julia find refuge in a charming Cotswold cottage, Emmy's burning ambition to return to the city and apprentice with a fashion designer pits her against Julia's profound need for her sister's presence. Acting at cross purposes just as the Luftwaffe rains down its terrible destruction, the sisters are cruelly separated, and their lives are transformed…
Synopsis:
The death of Judd Foxman's father marks the first time that the entire Foxman family—including Judd's mother, brothers, and sister—have been together in years. Conspicuously absent: Judd's wife, Jen, whose fourteen-month affair with Judd's radio-shock-jock boss has recently become painfully public.
Simultaneously mourning the death of his father and the demise of his marriage, Judd joins the rest of the Foxmans as they reluctantly submit to their patriarch's dying request: to spend the seven days following the funeral together. In the same house. Like a family.
As the week quickly spins out of control, longstanding grudges resurface, secrets are revealed, and old passions reawakened. For Judd, it's a weeklong attempt to make sense of the mess his life has become while trying in vain not to get sucked into the regressive battles of his madly dysfunctional family. All of which would be hard enough without the bomb Jen dropped the day Judd's father died: She's pregnant.
Synopsis:
The New York Times bestseller and the USA Today #1 Hot Fiction Pick for the summer, The Chaperone is  a captivating novel about the woman who chaperoned an irreverent Louise Brooks to New York City in 1922 and the summer that would change them both.
 
Only a few years before becoming a famous silent-film star and an icon of her generation, a fifteen-year-old Louise Brooks leaves Wichita, Kansas, to study with the prestigious Denishawn School of Dancing in New York. Much to her annoyance, she is accompanied by a thirty-six-year-old chaperone, who is neither mother nor friend. Cora Carlisle, a complicated but traditional woman with her own reasons for making the trip, has no idea what she's in for. Young Louise, already stunningly beautiful and sporting her famous black bob with blunt bangs, is known for her arrogance and her lack of respect for convention. Ultimately, the five weeks they spend together will transform their lives forever.
 
For Cora, the city holds the promise of discovery that might answer the question at the core of her being, and even as she does her best to watch over Louise in this strange and bustling place she embarks on a mission of her own. And while what she finds isn't what she anticipated, she is liberated in a way she could not have imagined. Over the course of Cora's relationship with Louise, her eyes are opened to the promise of the twentieth century and a new understanding of the possibilities for being fully alive.
7. A Most Inconvenient Marriage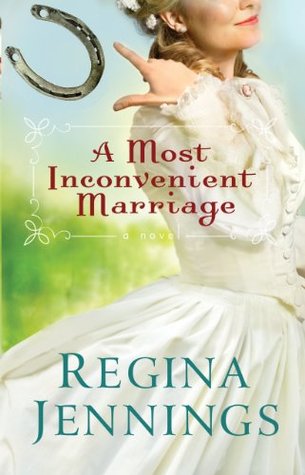 Synopsis:
Having fled a difficult home life, Civil War nurse Abigail Stuart feels like her only friend in the world is sweet but gravely wounded patient Jeremiah Calhoun. Fearing he won't survive, the Confederate soldier's last wish is that Abigail look after his sickly sister at home. Marry him, return to his horse farm, and it'll be hers.
Left with few choices, Abigail takes him up on his offer and moves to Missouri after his death, but just as the family learns to accept her, the real Jeremiah Calhoun appears–puzzled to find a confounding woman posing as his wife. Jeremiah is determined to have his life back to how it was before the war, but his own wounds limit what he can do on his own. Still not fully convinced Abigail isn't duping him, he's left with no choice but to let the woman stay and help–not admitting to himself she may provide the healing his entire family needs.
8. #GIRLBOSS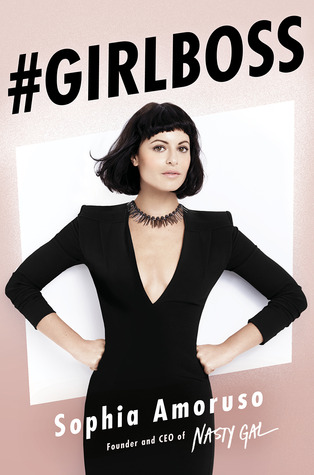 Synopsis:
At seventeen, Sophia Amoruso decided to forgo continuing education to pursue a life of hitchhiking, dumpster diving, and petty thievery. Now, at twenty-nine, she is the Founder, CEO, and Creative Director of Nasty Gal, a $100+ million e-tailer that draws A-list publicity and rabid fans for its leading-edge fashion and provocative online persona. Her story is extraordinary—and only part of the appeal of #GIRLBOSS.
This aspirational book doesn't patronize young women the way many business experts do. Amoruso shows readers how to channel their passion and hard work, while keeping their insecurities from getting in the way. She offers straight talk about making your voice heard and doing meaningful work.
She's proof that you can be a huge success without giving up your spirit of adventure or distinctive style. As she writes, "I have three pieces of advice I want you to remember: Don't ever grow up. Don't become a bore. Don't let The Man get to you. OK? Cool. Then let's do this."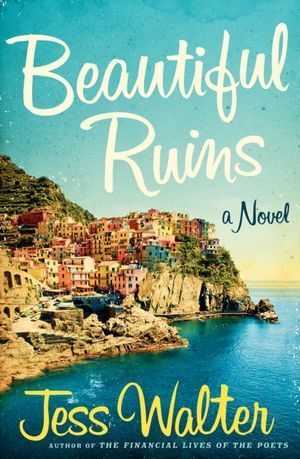 Synopsis:
The story begins in 1962. On a rocky patch of the sun-drenched Italian coastline, a young innkeeper, chest-deep in daydreams, looks out over the incandescent waters of the Ligurian Sea and spies an apparition: a tall, thin woman, a vision in white, approaching him on a boat. She is an actress, he soon learns, an American starlet, and she is dying.
And the story begins again today, half a world away, when an elderly Italian man shows up on a movie studio's back lot—searching for the mysterious woman he last saw at his hotel decades earlier.
What unfolds is a dazzling, yet deeply human, roller coaster of a novel, spanning fifty years and nearly as many lives. From the lavish set ofCleopatra to the shabby revelry of the Edinburgh Fringe Festival, Walter introduces us to the tangled lives of a dozen unforgettable characters: the starstruck Italian innkeeper and his long-lost love; the heroically preserved producer who once brought them together and his idealistic young assistant; the army veteran turned fledgling novelist and the rakish Richard Burton himself, whose appetites set the whole story in motion—along with the husbands and wives, lovers and dreamers, superstars and losers, who populate their world in the decades that follow.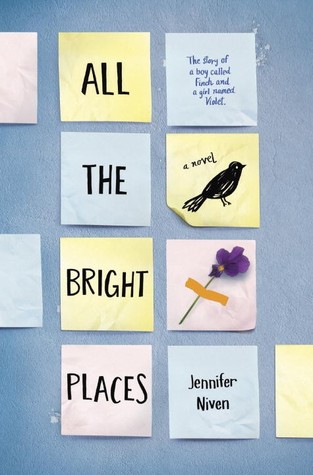 Synopsis:
The Fault in Our Stars meets Eleanor and Park in this exhilarating and heart-wrenching love story about a girl who learns to live from a boy who intends to die.

Soon to be a major motion picture starring Elle Fanning!
 
Theodore Finch is fascinated by death, and he constantly thinks of ways he might kill himself. But each time, something good, no matter how small, stops him.
 
Violet Markey lives for the future, counting the days until graduation, when she can escape her Indiana town and her aching grief in the wake of her sister's recent death.
 
When Finch and Violet meet on the ledge of the bell tower at school, it's unclear who saves whom. And when they pair up on a project to discover the "natural wonders" of their state, both Finch and Violet make more important discoveries: It's only with Violet that Finch can be himself—a weird, funny, live-out-loud guy who's not such a freak after all. And it's only with Finch that Violet can forget to count away the days and start living them. But as Violet's world grows, Finch's begins to shrink.