I've Got Your Number by Sophie Kinsella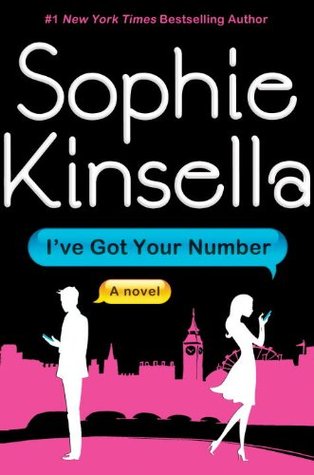 Synopsis from Goodreads:
I've lost it.
The only thing in the world I wasn't supposed to lose. My engagement ring. It's been in Magnus's family for three generations. And now the very same day his parents are coming, I've lost it. The very same day! Do not hyperventilate, Poppy. Stay positive
!!
 
Poppy Wyatt has never felt luckier. She is about to marry her ideal man, Magnus Tavish, but in one afternoon her "happily ever after" begins to fall apart. Not only has she lost her engagement ring in a hotel fire drill but in the panic that follows, her phone is stolen. As she paces shakily around the lobby, she spots an abandoned phone in a trash can. Finders keepers! Now she can leave a number for the hotel to contact her when they find her ring. Perfect!
 
Well, perfect except that the phone's owner, businessman Sam Roxton, doesn't agree. He wants his phone back and doesn't appreciate Poppy reading his messages and wading into his personal life.
 
What ensues is a hilarious and unpredictable turn of events as Poppy and Sam increasingly upend each other's lives through emails and text messages. As Poppy juggles wedding preparations, mysterious phone calls, and hiding her left hand from Magnus and his parents . . . she soon realizes that she is in for the biggest surprise of her life.
I'd always been a fan of Sophie Kinsella's Shopaholic series so when I saw she had a book that I hadn't read I snagged it up from the library (ebook). This was EXACTLY the book I needed at the moment – something light, romantic and with a great ending. Yes, I pretty much knew who would end up with who before even beginning the book, but I really enjoyed reading this story. Although it ended how I expected, it definitely had a surprise here and there and really kept my attention – I finished in less than two days! I just couldn't put it down. I loved it. It was sweet, romantic and brought a smile to my face. You've got to love a book that makes you laugh out loud every once in a while.
The Dead Key by D.M. Pulley
Synopsis from Goodreads:
It's 1998, and for years the old First Bank of Cleveland has sat abandoned, perfectly preserved, its secrets only speculated on by the outside world.
Twenty years before, amid strange staff disappearances and allegations of fraud, panicked investors sold Cleveland's largest bank in the middle of the night, locking out customers and employees, and thwarting a looming federal investigation. In the confusion that followed, the keys to the vault's safe-deposit boxes were lost.
In the years since, Cleveland's wealthy businessmen kept the truth buried in the abandoned high-rise. The ransacked offices and forgotten safe-deposit boxes remain locked in time, until young engineer Iris Latch stumbles upon them during a renovation survey. What begins as a welcome break from her cubicle becomes an obsession as Iris unravels the bank's sordid past. With each haunting revelation, Iris follows the looming shadow of the past deeper into the vault—and soon realizes that the key to the mystery comes at an astonishing price.
Oh. My. Gosh. This book kept me RIVETED. I absolutely love history and historical buildings so a book about a mystery that's been sealed up in an old 15-story bank for 20 years was right down my alley. It definitely moved a little too slowly at certain points for me (I just WANTED TO KNOW WHAT HAPPENED!) but I was kept hooked on the story throughout the book. I also loved how the author told the story from two points of view, and yet the two women were incredibly similar. There were a few times when I thought "really? would that reaaaalllly happen?" but I just pushed those thoughts to the side and got back into the story. If you love old, unsolved mysteries, this one is for you.
To All The Boys I've Loved Before by Jenny Han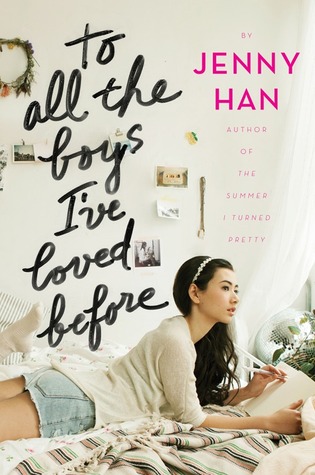 Synopsis from Goodreads:
To All the Boys I've Loved Before is the story of Lara Jean, who has never openly admitted her crushes, but instead wrote each boy a letter about how she felt, sealed it, and hid it in a box under her bed. But one day Lara Jean discovers that somehow her secret box of letters has been mailed, causing all her crushes from her past to confront her about the letters: her first kiss, the boy from summer camp, even her sister's ex-boyfriend, Josh. As she learns to deal with her past loves face to face, Lara Jean discovers that something good may come out of these letters after all.
I picked this book because it was $1.99 and it is the new Book Club read on Lauren Conrad's blog. Although the main character was a high schooler, I still found the book cute and somewhat relatable. I pretty much had an idea of where it was going to go, but nevertheless I enjoyed reading the story. This was another book I finished in one weekend and definitely recommend it as a fun, light read.