I've mentioned a couple times here, and many times on Instagram, that I've been participating in the 21 Day Fix, which is a Beachbody program with workouts and nutritional guidelines. Because I really enjoyed both the program and the challenge group I participated in, I thought it would be great to review it here on the blog!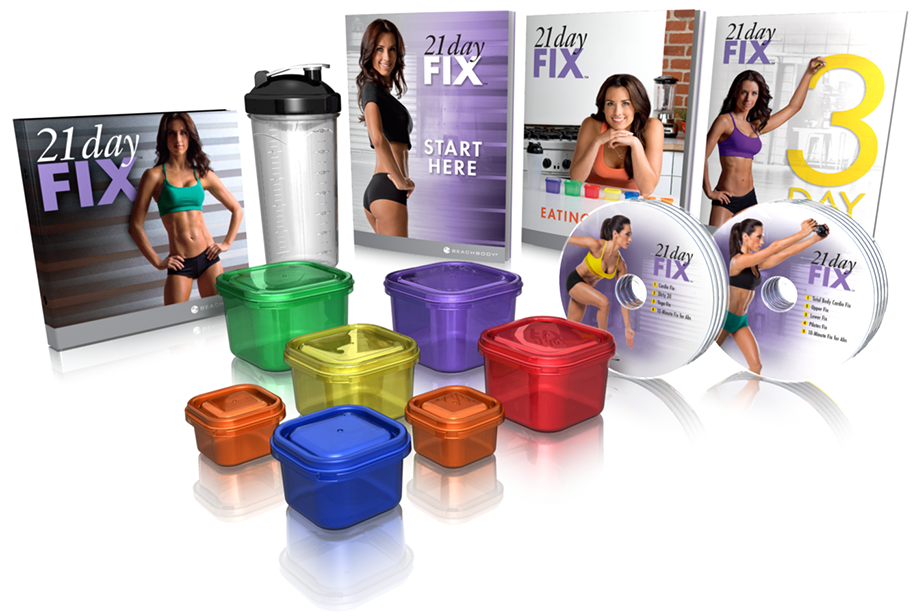 So what is the 21 Day Fix? It's a program that lasts for 21 days (shocked?!) where you follow their workouts every day and then also their nutritional guidelines, which are based on food type and portion sizes, so there's no counting calories or macros or anything confusing like that.
Workouts:
There are 7 workouts that come on two DVDs – one for each day of the week – and each workout is only 30 minutes long! I loved this because I could do it in my apartment each morning and it was a lot easier to convince myself to workout for just 30 minutes.
Nutrition:
For food, based on your height, weight, etc, you're put into a container category and each category gets a certain number of containers. The containers are color coded based on food group (for example, green = veggies, red = protein, and so on). That way you can keep track of how many containers you get per day in each color and you're encouraged to spread out container types so that for each meal you have veggies, protein and a healthy fat.
When I first opened the box and looked at the containers I laughed. I thought is this a joke?? I'm going to starve to death – they looked TINY!!!! Once I started to actually fill them and then dump them out on my plate, however, it turned out that they weren't as tiny as I thought. I actually didn't even eat all of my containers for several of the days because I wasn't hungry enough!
You can also re-adjust as needed based on your own needs. For example, right before I started the Fix, my doctor told me to add in more coconut oil, so I did. Although this may have kept me from losing more weight, doing what you need for your own health issues is far more important!
And although there is no sugar or alcohol on the program, three times per week you can trade in your yellow containers (carbs) for treats! That way you don't feel deprived and you're still sticking with the program.
So what were my results? I didn't get the extreme results I was looking for, although I did lose 3 inches over all (I don't weigh myself). I considered this a serious success based on the fact that I have been dealing with some health issues that have drained me of all my energy and caused me a lot of stress – both of which would normally have caused me to gain weight over this past month.
BUT my favorite part of doing the fix? Participating in the challenge group! When you join Beachbody you have the option of having a coach and participating in their challenge. The challenge group is set up as a secret Facebook group and you check in each day with how you did on nutrition and workouts, as well as other things like sharing goals, recipes, encouragement, etc. It was checking in with the group every day, as well as getting assigned a success buddy, that motivated me to stay on track with the program. I loved that I felt like we were in this as a group and I loved being able to encourage others and also reach out when I needed help and encouragement as well.
I actually loved the concept of the group and coaching so much that I signed up to be a coach! The whole reason I started this blog in the first place was to be someone who was relatable to other women and to be able to reach out and help other people on their own journeys – and that is exactly what a coach does.
If you're interested in joining one of my challenge groups (you can either buy a Beachbody challenge package to follow along or just join for free and see how you like the group) shoot me an email at peaceloveandoats@gmail.com so we can chat and see if it sounds like the right thing for you. Or if you just want to try a program like 21 Day Fix or Piyo, which I also loved, without the group then that's fine too!
I've had a great experience so far with Beachbody and would love to share it!
P.S. this got so long I didn't get to mention Shakeology… AHH for another day!
Do you like the idea of having a challenge group to keep you motivated? 
What kind of workout program are you doing now?